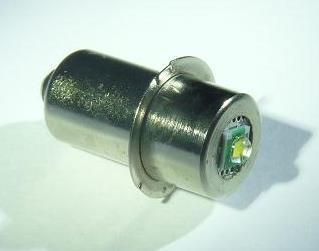 TTS-2WCREE XP-E LED Bulb (-ve Polarity)

This bulb has a reverse polarity to most LED bulbs (-ve to base centre tip, so it can work with torches such as those which have the 6 volt square Eveready battery and Dolphin torches). The polarity of most torches can be reversed by reversing the direction of the batteries or the wires leading to the bulb socket.

The TTS-2WCREE (-ve polarity) is a premium quality universal 2 Watt CREE XP-E LED bulb ideally suited for use in most torches. This upgrade is designed for maximum light output to our specification. This bulb has a voltage band of 3.2 to 9 volts.

Specification

• 150 lumens of light output - LED brightness is vastly higher than the equivalent incandescent bulb in the same power torch
• 2 watt CREE XP-E LED bulb
• Available in common / standard flange base or screw base.
• Operates on wide voltage range 3.2 - 9V DC (brightest at 4 volts plus)
• Works and fits in most torches
• Consistent brightness and colour regardless of battery condition
• Electronic regulation for rock steady light output
• Never burns out - an incredible 50,000 hour life expectancy
• Environment, energy saving friendly and shock-resistant
• Produces pure white light


Package and Contents

• LED bulb in re-useable small plastic case


Postage

Your LED bulb will be carefully packaged and dispatched by Royal Mail 1st class post. Allow 1 to 2 working days for UK delivery.

For shipping to other European and Worldwide countries this item with packaging weighs just 20 grams, please refer to shipping for prices.